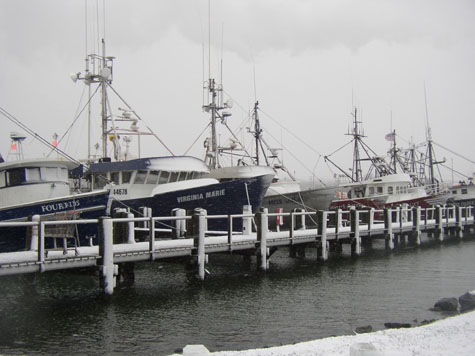 The Atlantic Offshore Lobstermen's Association (AOLA) began in the early 1970's as the Atlantic Offshore Fishermen's Association. In 1992, the association was reorganized and renamed in order to proactively address regulatory issues, with its focus on conservation, preservation and sustainability of the resource now and into the future.
AOLA represents a large portion of the offshore lobster fleet and is a recognized leader and voice for the industry. AOLA also realizes the importance of including fishing related businesses, dependent on the offshore lobster fishery, as partners in the effort to protect the lobster resource. Together with our associate members, we work to keep our industry healthy and profitable.
Funding for AOLA originates primarily from dues paid by vessel owners belonging to the association, with additional contributions from associate members and grants.
Mission Statement:
AOLA exists to maintain and enhance the offshore lobster fishery. To fulfill this purpose, AOLA will inform and educate its members and the public about the offshore lobster fishery, serve as an advocate for the offshore lobster fishery, and support activities, which enhance the lobster resource, protect lobster habitat and benefit the lobster industry.
Our Values Include:
Conservation: Our number one priority is to acquire and maintain a sustainable resource now and into the future.
Management: Sustain the resource through pro-active, industry recommended management measures that promote conservation of the lobster resource.
Cooperation: Promote cooperation among industry, scientists, academia, fishery managers, and state and federal agencies.
Knowledge: Conduct various investigations and experiments to increase the knowledge and awareness of the lobster resource and issues relating to the lobster industry.
Our Staff and Board of Directors:
David Borden, Executive Director - David Borden started with AOLA in 2013. David brings to AOLA over 25 years of fisheries policy experience, previously employed both in state government and as a consultant.  David represents AOLA's interests in management and policy issues. David can be reached at DBorden@offshorelobster.org
Heidi Henninger, Program Coordinator - Heidi Henninger has been with AOLA in her current role since 2007.  Heidi is a trained lobster biologist and manages AOLA's research program, as well a manages much of the day to day operation of the Association. Heidi can be reached at Heidi@offshorelobster.org.
Board of Directors
Grant Moore - President
Jonathan Shafmaster - Vice President
Norbert Stamps -Vice President
William (Bill) Palombo - Treasurer
Eric Burcaw - At Large
Marc Palombo - At Large
Lars Vinjerud -  At Large
Jon Williams - At Large